Hot Springs Soaking
Hot Springs, MT has been known as having great healing waters for over 150 years, and there are many stories of healing, explaining our town's motto: Limp in, Hop Out! And later changed to Limp in, Leap Out!
Exclusive for guest use is our own hot mineral soak, or Plunge. Located near the corner of Wall St & North St is our shared tub with continuously flowing hot mineral water, 100% natural. It is open year-round, is outside within a privacy fence, 30 yards from our Suites and 100 yards from our RV Park.
Those staying in our Guest House have use of our second plunge, on their deck.
FAQS
How would you describe your Plunges?
We use recycled hot tubs, which have proven to be good vessels for comfortable soaking. There is no electricity to either of our tubs, (no jets) and the rate of flow-through is sufficient so no additives or chemicals are necessary or required.
When are the Plunges open?
For our guests, they are open 24/7, cleaning times excepted.
Can I come soak for the day?
Unfortunately, no. We are not set up for day use. This is primarily because as there are no separate shower or bathroom facilities near the plunge.
Should you shower after soaking in hot springs?
Please shower before: Clean bodies and pores mean better detoxification and mineral transmission. It also means our pools will stay clear and free of lotions, oils and chemicals. Most find that it is beneficial to not shower after soaking so that the minerals remain on the skin.
What are some benefits of the hot mineral water?
Soaking in our hot springs can be a great way to naturally detox your skin. Thanks to the high amount of silica in the water, it can also soften rough or dry skin. Plus, the mineral content of sulfur springs has been shown to help persisting skin conditions like psoriasis, acne and eczema.
Who should avoid hot springs?
Elderly people or people who have high blood pressure, arteriosclerosis, heart disease, are pregnant or those with disorders of the respiratory organs should not bathe in water that is 107°F or hotter.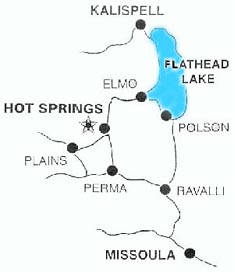 LOCATION
Our office is located:
114 Third Ave N, Hot Springs, MT 59845
Our USPS mailing address:
PO Box 626, Hot Springs, MT 59845
GUEST SHIPPING:
For USPS: Your Name, c/o Sophia Springs, PO Box 626, Hot Springs, MT 59845
For UPS: Your Name, c/o Sophia Springs, 114 Third Ave N, Hot Springs, MT 59845