Welcome to
Hot Springs, Montana
Hot Springs, Montana is a small quiet town that is surrounded by many places to explore!  Something fun can be found for everyone!
Learn About the Area
The area's Chamber of Commerce is one of the best places to get to know our area before or during your vacation with us!
Activities
If you're looking for places to explore nearby or only a short drive away, we've compiled some of the very best for you!
Hubbart Reservoir is a great place to go hiking, see the waterfalls or go for a swim!
Hot Springs Artist Society This active group regularly brings live music to town. www.hotspringsartistssociety.org
The Garden of One Thousand Buddhas is a public park, botanical garden and Buddhist center near Arlee, Montana, within the Flathead Indian Reservation in Lake County, Montana.
The LaRue Hot Springs Museum Open May—August Fridays, Saturdays & Sundays 12-4pm and by appointment. Look for special events held at the museum throughout the year. Visit www.laruehotspringsmuseum.com
LaRue Hot Springs Facebook Page
National Bison Range was established in 1908, making it over 100 years old, and one of the oldest wildlife refuges in the nation. It consists of 18,500 acres and is home to around 500 Bison and many other wildlife animals too.
Click on the Map for Locations & Directions
"Beautiful, peaceful and very clean."
-Hilda H.
AirBnb Guest | May, 2023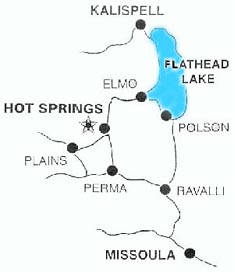 LOCATION
Our office is located:
114 Third Ave N, Hot Springs, MT 59845
Our USPS mailing address:
PO Box 626, Hot Springs, MT 59845
GUEST SHIPPING:
For USPS: Your Name, c/o Sophia Springs, PO Box 626, Hot Springs, MT 59845
For UPS: Your Name, c/o Sophia Springs, 114 Third Ave N, Hot Springs, MT 59845