Welcome to
Hot Springs, Montana
Hot Springs, Montana is a small quiet town that is surrounded by many places to explore!  Something fun can be found for everyone!
Learn About the Area
The area's Chamber of Commerce is one of the best places to get to know our area before or during your vacation with us!
Activities
If you're looking for places to explore nearby or only a short drive away, we've compiled some of the very best for you!
Hubbart Reservoir is a great place to go hiking, see the waterfalls or go for a swim!
Hot Springs Artist Society The Artists Society has sponsored many fine musical performances by artists and programs by visual artists. Musical performers have included: Elinor Freer and David Ying and the Ying Quartet in Montana Summer Music -2002 and 2003; William Jackson, internationally renowned composer, harpist, and celtic musician; Don Harmsworth, solo cello and composer; Leon Atkinson, classical and jazz guitarist; cello music by Lee Zimmerman and many, many more.
Mission Mountain Winery is located on the shores of Flathead Lake. It is the first Bonded Winery in the state of Montana.  Their wines have received over a hundred accolades and international medals for their bold and extraordinary qualities.
National Bison Range was established in 1908, making it over 100 years old, and one of the oldest wildlife refuges in the nation. It consists of 18,500 acres and is home to around 500 Bison and many other wildlife animals too.
Restaurants
Fergie's Pub is a great place to grab a drink and enjoy a bite to eat. Their meats are locally sourced, they offer both beef and bison, hamburger buns and pizza crust (gluten-free included) are made from scratch, beautiful mixed greens for salads and priced right!
Creekside Inn Sports Bar -Grill offers beer, wine and serves lunch and dinner
Camas Organic Market & Grocery is known for their amazing baked good items, fresh produce and health products.  A must on your places to visit while in Hot Springs
Barber Shop Beer Parlor is the place to go if you enjoy great music and beers.  Thety also have a large outdoor venue space and shuffleboard tables too.
Montana Bar they say is a legendary bar that has been around since the early 1900's. An original Bar with the old town comfort and hospitality. If you are visiting Hot Springs, this is an experience you won't want to miss.  
If you're interested in exploring Hot Springs and the activities that surround it, but would like a travel guide, not a problem!  Hot Springs, Montana has its very own Travel Guide service so you can enjoy your Montana experience to the fullest!
Click on the Map for Locations & Directions
"When we made our reservations here, we really weren't expecting much. The site does offer full RV hookups for our travel trailer and is very conveniently located for the purpose of our trip. I am happy to say that the quiet comfort of this little park far exceeded our expectations. Features include a hot tub with a geothermal well supplying the heated mineral water, a bath house which includes a laundry and a large park with grass, trees and a handful of pets (5-6 whitetail deer). "
Michael S.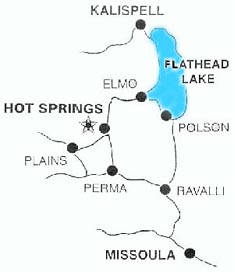 LOCATION
Our office is located:
114 3rd Ave N, Hot Springs, MT 59845
Our USPS mailing address:
PO Box 626, Hot Springs, MT 59845
CONTACT US
On-site Contact:
Phone: 406-741-2326
Text: 406-314-7076
Email: manager@sophiasprings.com
Off-site Contact:
mary@sophiasprings.com